I have always wanted to have chooks not just for the eggs but to eat all the food scraps that go into the compost. The biggest problem in a rural setting is keeping the chickens safe from foxes and snakes. Yes, we have both! I was driving down our driveway this morning and saw a fox stalking a duck.
My good friend Sarah, a fellow Dorper sheep breeder lost nearly all of her chickens to a fox. It was very distressing for her and the surviving chickens.
Alison found this Red Belly Black snake sunning itself in the back paddock. Lucky she did not step on it because they are very poisonous
So with chicken safety in mind Kim the researcher in the family started looking for good, safe and sturdy chicken coup designs. He found a terrific design not on the internet but from another good friend who is also a client. The coup will be chicken heaven with 12 metres by 8 metres of space to free range. Where to build the structure also required some thought. Not too far from the house and close to a water source. We decided on the small paddock beside the house that is easily accessible and has water plumbed to it. Kim & Cam drew up the plans and worked out what materials would be needed. We started sourcing the materials which included a trip to Sydney to buy mesh that Kim found on eBay. Kim, with good friend Murray are busy today building the coup and chicken run. I'll post some pictures of the progress tomorrow.
As promised here are the progress pictures of Cluckingkam Palace. Not bad for one days work by two old blokes. 19 holes excavated with 19 posts concreted and frame erected.
I just can't wait to get started. Anyone got some good advise on keeping chickens
Here are some the breeds I like.
Light Sussex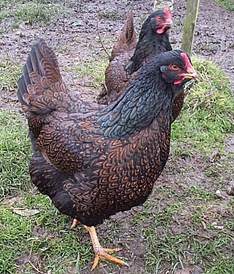 Barnevelder
Isa Brown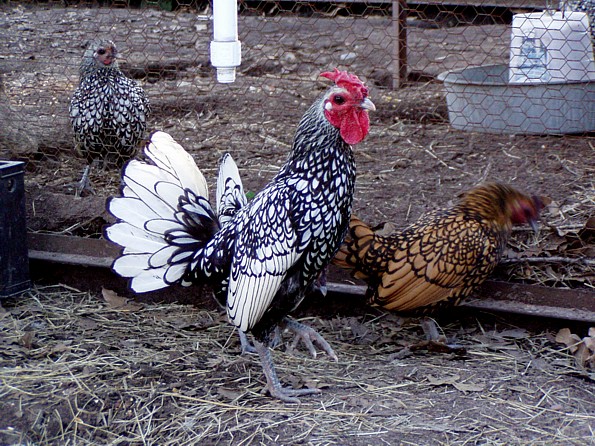 Sebrights